My guest blog post on seductive Regency Subtext , but Rose Fairbanks thoughtfully added in the perfect Darcy .gifs. Enjoy!
Stories from the Past
I'm excited to host new to me author, Lela Bay. Ms. Bay writes Regency Romance and many other genres and shares insights between her work and Pride and Prejudice.
Regency Subtext
First, I'd like to thank Rose Fairbanks for allowing me to guest blog.
Although I write in many genres, Regency stories hold a special place in my heart. Much like a mystery, the story is often as much about what isn't said as what is. Adhering to convention and propriety, people rarely speak bluntly about their feelings. When they do it has the force of an explosion, such as when Mr. Darcy finally breaks down to say he loves Elizabeth "ardently."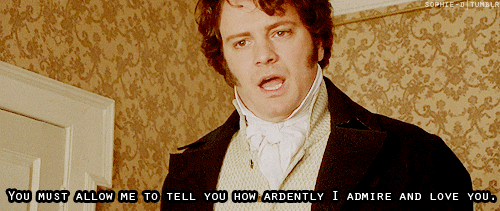 "In vain I have struggled. It will not do. My feelings will not be repressed. You must allow me to tell you how ardently I admire and love you."
Of course, he goes on to ruin it by…
View original post 742 more words